Reprinted from the Kearney Hub
By JOSH MOODY Hub Staff Writer | Posted: Tuesday, February 17, 2015 12:20 pm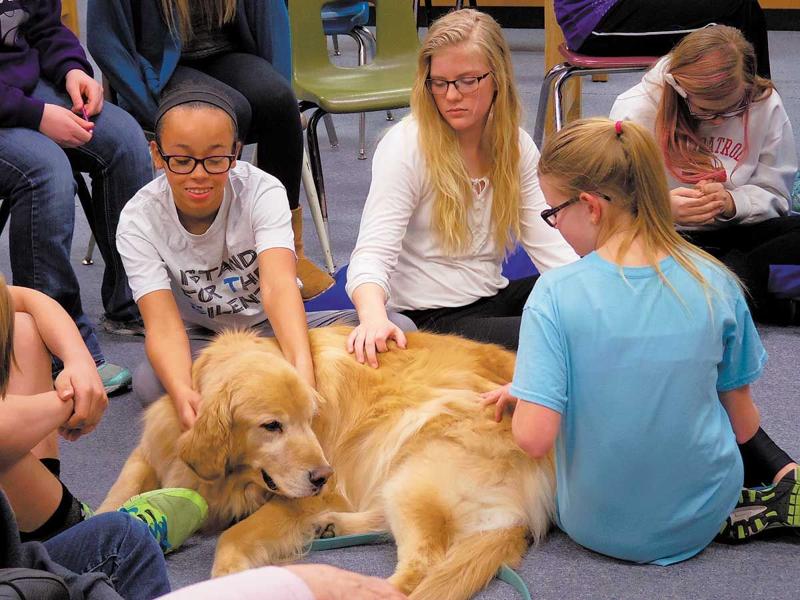 Compassion education class
From left, Dominique Edwards and Emma Malzacher, both 12, pet Schatzi as he sits in on their compassion education class. School Resource Officer Rob Tallion of the Kearney Police Department brings animals into the classroom to help students learn empathy. Dominique is the daughter of Abigail Edwards, and Emma is the daughter of Brian and Sara Malzacher.
KEARNEY — With Schatzi — a 6-year-old golden retriever — in the center, Horizon Middle School students circled School Resource Officer Rob Tallion.
"Each of you are very powerful, in fact, each of you has enough power that you could change this world that we live in," Tallion told about 20 seventh-graders seated on pillows and chairs.
The students are part of a compassion education class that Tallion teaches at HMS and Sunrise Middle School. The focuses of the class are character education, empathy, and preventing bullying and violence.
"We're learning a lot about how we can help others and, pretty much, healing yourself as well," seventh-grader Alyssa Kaminski, 13, said.
"Essentially, what we're teaching is good citizenship," Tallion said. "How to care about each other, care about themselves, not let themselves be hurt, not let other people be hurt."
Maria Loya-Perez, 12, said that the class teaches helpful lessons that can be applied to everyday life in and out of school.
Tallion teaches students to think before they act or react to others and about how to cope with bullying.
"Think through and problem solve before you act," Tallion tells students. "Get help, grieve and forgive, and give love."
Monday, Tallion shared the story of civil rights leader Martin Luther King Jr. and his role in changing the course of U.S. history.
Tallion encouraged students to follow King's lead. "He is one person, and he literally changed the world," Tallion told students.
Tallion emphasized the role that non-violent protest had in King's campaign for equal rights for African-Americans. He explained the racism, violence, and adversity that King and his followers faced. Tallion noted, too, that King resisted violence even when threatened with it, a lesson that he said students can learn from. "Instead of fighting, you, too, can rise above it," Tallion told the class.
As students listened, they took turns petting Schatzi, who obliged them by rolling onto his side so that his stomach could be rubbed.
Tallion said bringing an animal into class was one way to foster empathy. Schatzi, he said, is an example of the value of caring for others.
Neglected in a cage for the first 1½ years of his life, Schatzi now spends his time helping others.
Owner Jude Bennett said that Schatzi had gone ungroomed and unattended until he was rescued by a concerned mail carrier.
"I love having him in the class because he's a prime example of the lesson that we're trying to teach," Tallion said. "Through the love and compassion that this dog has gotten, he's grown to be this therapy dog that goes out and helps other people and is a worthy part of society."