Reprinted from the Kearney Hub
By MARY JANE SKALA Hub Staff Writer | Posted: Sunday, October 12, 2014 1:00 am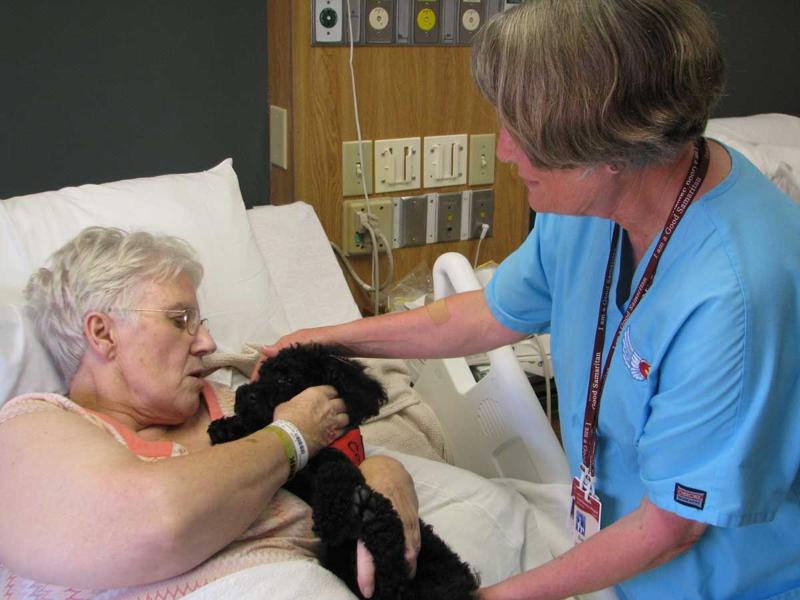 Kusek
JOYCE KUSEK of Ashton enjoys her snuggle with Coulee owned by Marla Bouton. Bouton, a volunteer in the pet therapy program, co-owns Hilltop Pet Clinic and leads a group of volunteers from the clinic in the Good Sam program. 
KEARNEY — Coulee laid on Joyce Kusek's bed at CHI Health Good Samaritan, closed her eyes and listened to Kusek's soothing voice. With a soft smile, her hand stroking Coulee, Kusek told Coulee about the four dogs she has back home in Ashton.
Later that afternoon, Coulee curled up near the pillow of an elderly patient whose voice purred as she related stories about the dogs she had long ago.
Coulee, who belongs to Marla Bouton, is one of the 36 dogs in the Animal Assisted Therapy Program at Good Sam. Founded in 1993, it allows approved volunteers to bring their dogs and cats to visit patients. The 21-year program is thriving like a bouncy puppy.
"It used to be that bringing patients' pets up to their rooms was a bit of an adventure. We had to sneak them in," said Bouton, a co-owner of Hilltop Pet Clinic at 4507 First Ave. Place.
These stories and more are chronicled in a new book, "Silent Conversations." Put together by hospital staff and volunteers and published by the Good Samaritan Hospital Foundation, it tells about the magic and smiles that animals freely bring to patients inside sterile hospital rooms.
The cover shows Penny, a Pembroke Welsh Corgi, resting beside a sculpture in the hospital corridors. Penny belongs to Kim Williams, the program's coordinator. On the back cover, Sissy, a German shepherd mix belonging to Gaylene and Jerry Arent, relaxes between two residents in rocking chairs at Prairie View Gardens at 1705 Prairie View Place.
The book, printed by Morris Publishing, also includes a story about Peanut, the program's only cat, who passed away last month.
The stories of visits yank on human heartstrings.
On one of her first visits, Williams took Penny to visit a patient with end-stage complications of multiple sclerosis. "Penny sat on a towel on her bed, and the patient just stroked her. On the last day of her life, she wanted to see Penny, so I brought Penny up. She said, "Thank you." She died in the next hour," Williams said. "That opened my eyes. I told myself, 'This has power.'"
There is Schatzi, a golden retriever owned by Jude and Gordon Bennett, who relieved the fears of a 3-year-old chemotherapy patient. There is Chunk, a Labrador retriever who did the same for two little girls receiving cancer treatment. He even allowed himself to be garbed in a mask and shoe covers to visit one of the girls in isolation.
"We have seen a child move from outright fear of a treatment room to the excitement of spending time with a new friend because of a gentle golden retriever," wrote Kim Burr, a counselor at the Good Sam Cancer Center.
There's the story about Ella Rose, an English cocker spaniel who visited a dying man. He reminded the man of the black cocker spaniel he and his wife had received as a wedding gift 51 years earlier. The man was tense with pain until Ella Rose curled up with him. Then he relaxed and became "seemingly pain free" for a brief time before passing away.
Stories leap off the pages of the book, including one about struggling pupils in area schools whose grades improved after regular visits with dogs. About patients who see the dogs and respond as if their own pets had come for a visit.
"It's hard to heal the body if you don't have a good attitude. Animal Assisted Therapy raises patients' spirits so they're not focused on their illness. It's healing the mind so the body can follow," Carolyn Schwindt, Chunk's owner, wrote for the book.
The AATP has 36 animals and 32 handlers and is part of Therapy Dogs Inc., a national pet registry. Pet owners who want to volunteer their pets must contact the hospital's Volunteer Services program. Next, the dog is evaluated by one of three people: Williams, Jude Bennett and Claudia Murr.
Evaluators check the pet's ears, paws and tail ("things people might grab") and take note of the relationship between the dog and the handler. They look for "controllable, reliable" behavior, Williams said. They consider how the pets will react with patients at the hospital, in nursing homes and beyond, including schools, libraries, college dorms and more.
"We look for signs of aggression, shyness and severe anxiety," Williams said. "Is the dog interested in being there, or does the handler just want to be there? Are they calm?" Dogs must also walk calmly on a leash and not drag their owners down the hallway. "If the dog is aggressive or barks or growls, that animal won't work," she added
The second and third observations take place at least 24 hours apart so as not to overstimulate the dog. Several facilities, including Mother Hull Home and Homestead Assisted Living, serve as test sites where evaluators see how the animals do with patients.
Once accepted, pet owners attend a meeting where they learn about the facilities they will visit and tips on dealing with patients. They are then free to visit any facilities they choose, whenever it's convenient. The only rules are that dogs must be properly vaccinated. Their claws must be clipped, and they have had to be bathed in the 24 hours preceding the visit.
"Petting a cat or dog lowers anxiety and blood pressure and reduces depression," Bernie Goodner, the hospital's certified therapeutic recreational specialist, said, "It doesn't matter what age patients are. The pet can stimulate memories. Even people with Alzheimer's disease talk about their dogs when the canines visit."
Williams has seen comatose patients in the ICU stir when a dog arrives. Some patients there can't speak, "but they try to smile," she said.
Pets in the program spread their love far beyond health care facilities. They go to Camp Bear, a children's grief therapy camp, to simply break the ice. "Often, children pet the dog and begin to talk about their loved one who died. We're there as comfort," Williams said.
At Horizon Middle School, a boy who was too shy to read aloud began to read to a visiting dog in a soft whisper. "The dog is not a judge, so that child had no fear of being corrected," Williams said. His teacher wept.
Dogs visit Richard Young Behavioral Health Center. They visit the Kearney Public Library's Paws to Read program once a month. They regularly visit six nursing homes: Mother Hull Home, Prairie View Gardens, St. Luke's Good Samaritan Village, St. John's Good Samaritan Center, Homestead Assisted Living and Cambridge Court Assisted Living. They stop in at Unity House.
Dogs have visited the Kearney Family YMCA, the Newman Center at the University of Nebraska at Kearney, UNK dorms and the Kearney Area Children's Museum. They've marched in Kearney's Veteran's Day parade and the Fourth of July parade in Gibbon. They have worked with students at Horizon Middle School and first-graders at Zion Lutheran School, health fairs and many more.
"You go where you and your dog are the most comfortable," Bouton said.
While the program soothes humans, its coordinators insist that dogs enjoy it, too. Pets who do not seem happy or who turn away from patients probably "are the wrong fit," Williams said. "Most dogs enjoy the experience and then go home and take a nice, long nap. The next day they get up and do it all over again," Bouton said. "We show up, pick a floor and just walk around. The nurses know who we are."
On a recent Wednesday, about nine patients sat in a circle in the Good Sam's Inpatient Rehabilitation unit as Goodner brought in three dogs, each wearing the red vest that the therapy dogs wear. Patients who had no pet allergies or restricting medical conditions were invited to let one of the dogs sit in their laps.
Paul Wice of Kearney, the retired news director at KGFW radio, eagerly allowed a dog to sit in his lap. He'd been hospitalized for six weeks due to a serious arm injury. The dog's owner, Suz Wiester, works at Hilltop Pet Clinic and visits Good Sam on the third Wednesday of every month.
Across the room, Jerry Waldo of Republican City cuddled a dog. "I feel good when pets come in," he said. Hospitalized for 55 days, he said he misses his two labs at his home in Republican City.
"This program brings a sense of normalcy," Goodner said. "These people are missing their pets. Just for Jerry to have an animal in his lap, he's reminded that there is life outside these walls."
Carol Wahl, Good Sam's vice president of patient care services, said, "We know that the presence of families, friends, and loved ones are vital to the healing process. Many research studies document the health benefits of a person/animal relationship, but we don't need research to prove it to us. We know by the stories our patients share with us on a routine basis."
Even hospital staff look forward to seeing a furry, four-legged animal come around the corner, she added. "I bet that every staff member knows each animal's name."
She praised the volunteers who bring animals to the hospital, calling them "amazing people who are very attuned to the differences that animal connections can make. They dedicate many hours to making a difference in people's lives."
"Every day we are blessed," Goodner said. "We make people smile."